The Traditional Design and Features of Peshawari Chappal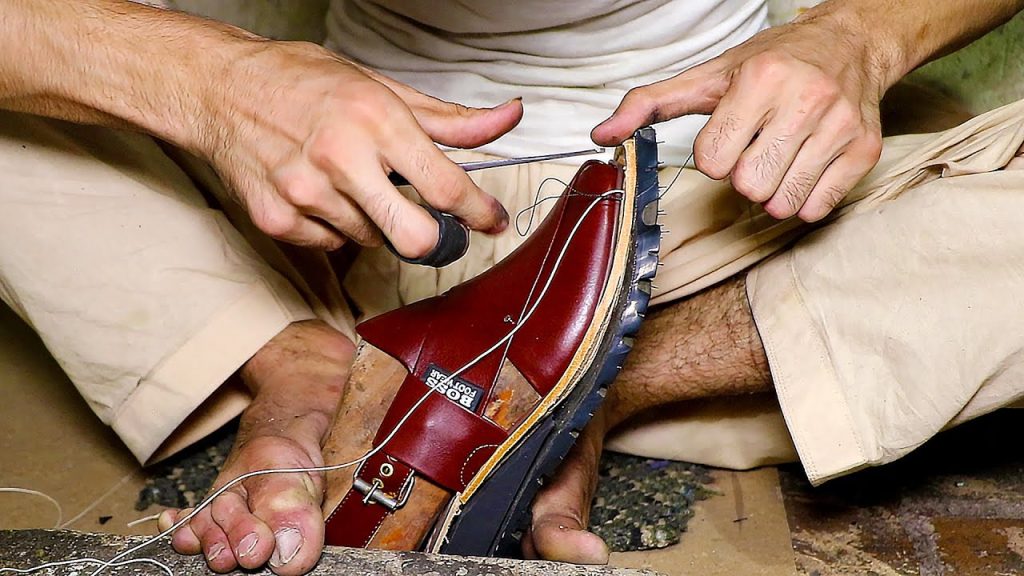 The traditional design and features of Peshawari Chappal are truly captivating. These handcrafted sandals have been a part of Pakistani culture for centuries, with their unique style and timeless appeal.

One of the distinguishing features of Pakistani Chappal is its closed-toe design. The upper part of the sandal is made from soft leather that hugs the foot comfortably. The intricate stitching patterns on the upper add to its charm, making it a true work of art.

Another notable feature is the presence of multiple straps or thongs that crisscross over the top of the foot. These straps not only provide a secure fit but also give an elegant look to the chappal. They are usually fastened with small metal buckles or buttons, adding a touch of sophistication.

The sole of Peshawari Chappal is typically made from thick leather, which offers durability and flexibility. It provides comfort during long walks while still maintaining its shape over time. The soles are often embellished with beautiful embroidery or embossed designs that reflect regional craftsmanship.

Peshawari Chappals come in various colors, ranging from earthy tones like brown and black to vibrant shades such as red and blue. Each color represents different traditions and cultural heritage across Pakistan.

These chappals are not just limited to men's footwear; they have gained popularity among women too. Women's versions may feature additional embellishments like beads or sequins, making them more feminine without compromising on their traditional essence.
Materials Used in Making Sandals
The materials used in making Peshawari Chappal play a significant role in defining its quality and durability. Craftsmen carefully select the finest materials to ensure that each pair of sandals meets the highest standards.

One of the key components is leather, which is traditionally sourced from cowhide or buffalo skin. This material provides strength and flexibility, allowing for comfortable wear even after prolonged use. The leather undergoes a meticulous process of tanning and coloring to achieve vibrant hues and a smooth texture.

Another essential material used is rubber or synthetic soles, which provide excellent grip and shock absorption. These sturdy soles are attached to the leather upper using strong stitching techniques that enhance the overall durability of the chappal.

To add an element of elegance, artisans often incorporate intricate embroidery or embellishments using colorful threads, beads, sequins, or mirrors onto the straps or front portion of the chappal. This delicate craftsmanship adds a touch of sophistication while showcasing traditional Pakistani aesthetics.

By utilizing high-quality materials combined with skilled craftsmanship techniques passed down through generations, Peshawari Chappals continue to be treasured footwear worldwide. Their timeless design coupled with durable construction ensures they withstand both fashion trends and everyday wear-and-tear alike.
How to Wear Peshawari Chappal?
One of the great aspects of Peshawari chappal is its versatility when it comes to styling. Whether you're dressing up or going for a casual look, these traditional sandals can be paired with a variety of outfits.

To start off, let's talk about how to wear Peshawari chappal with traditional attire. If you're wearing a shalwar kameez, simply slip on your favorite pair and let them peek out from under the hem of your shalwar. This adds an authentic touch to your overall look and showcases the beauty of the chappals.

For a more contemporary twist, you can also wear Peshawari sandal with jeans or trousers. The key here is to roll up the bottoms slightly so that the chappals are visible. This creates a trendy and relaxed vibe while still paying homage to Pakistani culture.

Another way to style these sandals is by pairing them with skirts or dresses. Opt for midi-length options or even maxi dresses for a bohemian feel. The contrast between the feminine silhouette and the traditionally masculine footwear creates an interesting fashion statement.

When it comes to color coordination, don't be afraid to experiment! While brown leather Peshawari chappals are classic and timeless, there are now various hues available in stores too. From vibrant reds and blues to earthy tones like olive green or mustard yellow, you have plenty of options to match your outfit perfectly.

Accessorize as desired! Feel free to add some bangles or statement rings alongside your Peshawari chappals for an extra touch of flair.

Wearing Pakistani sandal is all about embracing tradition while adding your own personal style into the mix. So go ahead and rock this iconic footwear in any way that makes you feel confident and fashionable!
Modern Adaptations and Variations of Peshawari Chappal
Peshawari Chappal, with its timeless design and traditional charm, has managed to captivate not only the locals but also people from all around the world. Over time, this iconic Pakistani sandal has undergone modern adaptations and variations to cater to changing fashion trends and preferences.

One such adaptation is the introduction of vibrant colors and intricate embroidery patterns on the upper part of the chappals. These embellishments add a touch of elegance and uniqueness, making them perfect for special occasions or even everyday wear. Additionally, some designers have incorporated contemporary elements like studs or beads, giving Peshawari chappals a trendy twist.

Another variation that has gained popularity is the fusion of different materials in creating these sandals. While traditionally made from leather, modern versions now feature combinations of leather with fabric or suede. This blend adds versatility to the footwear while ensuring comfort without compromising style.

As fashion evolves over time, so does the beloved Peshawari Chappal. Its adaptability makes it an essential piece in every wardrobe – whether you prefer a classic look or want something that stands out from the crowd!
The Global Popularity of Pakistani Chappal
Over the years, Pakistani chappal has gained immense popularity not only in Pakistan but also across the globe. Its unique design and exquisite craftsmanship have captured the attention of fashion enthusiasts worldwide.

Thanks to its versatility, Pakistani chappal can be paired with a wide range of outfits, from traditional shalwar kameez to contemporary jeans and shirts. This adaptability has contributed to its growing popularity among people from different cultures and backgrounds.

In recent years, many international designers and brands have incorporated elements of Peshawari chappal into their collections, introducing it to a wider audience. Celebrities and influencers have been seen sporting these sandals at various red carpet events and casual outings, further elevating its status as a fashionable footwear choice.

Online stores like Libas e Jamila have made it easier for people around the world to purchase authentic Peshawari chappals without having to travel all the way to Pakistan. With just a few clicks, anyone can now own this iconic piece of Pakistani culture.

The global popularity of Peshawari chappal is a testament to its timeless appeal and unmatched craftsmanship. Whether you are looking for comfort or style, this traditional sandal offers both in abundance. So why wait? Embrace the beauty of Peshawar's rich heritage by adding a pair of these stunning sandals to your collection today!